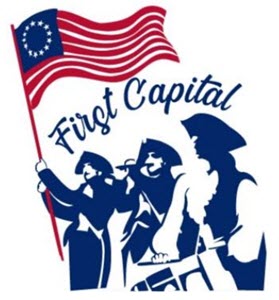 First Capital CYMS Fife and Drum Corps Celebrating 50 years
CENTRAL YORK MIDDLE SCHOOL FIFE & DRUM CORPS

Since its inception, almost 50 years ago, The Central York Middle School Colonial Fife & Drum Corps has become an iconic group of student musicians in and around York County. This band of passionate players is one of the only fife and drum corps in American public schools today.

Supporters of the CYMS fifes and drums are working to bring the energy and excitement that these students create to a larger audience while shining light on the revitalized assets that our York County community has to offer - especially in Downtown York.

FIRST CAPITAL FIFE & DRUM MUSTER

A Fife & Drum Muster is a gathering of fife and drum corps' form around the country. The first muster in York (at least in this millennium) includes a parade through downtown York and performances at the People's Bank Stadium as well as performances throughout the city.

The First Capital Fife & Drum Muster opens more doors to tourism and reinforces York's role as a cornerstone in colonial history. The CYMS fife and drum program looks to preserve a great tradition and continues to pass it forward to the generations to come.

The event brings it all home for alumni who have participated in, supported, and advocated for the fife and drum corps through the years.

WHY YOUR SPONSORSHIP IS IMPORTANT

Your corporate and personal sponsorship of the First Capital Fife & Drum Muster builds our York County community, it helps bring beneficial programming to the Central York Fife & Drum Corps., and it provides a beneficial community endorsement that builds corporate goodwill for your brand.

In 2021, be the catalyst that brings this incredible event to the York County community. Team up with Central York Middle School Fife & Drum Corps to build a colonial experience meant to teach, entertain, and show the great talent that has come through this historical music program.